from mainstream media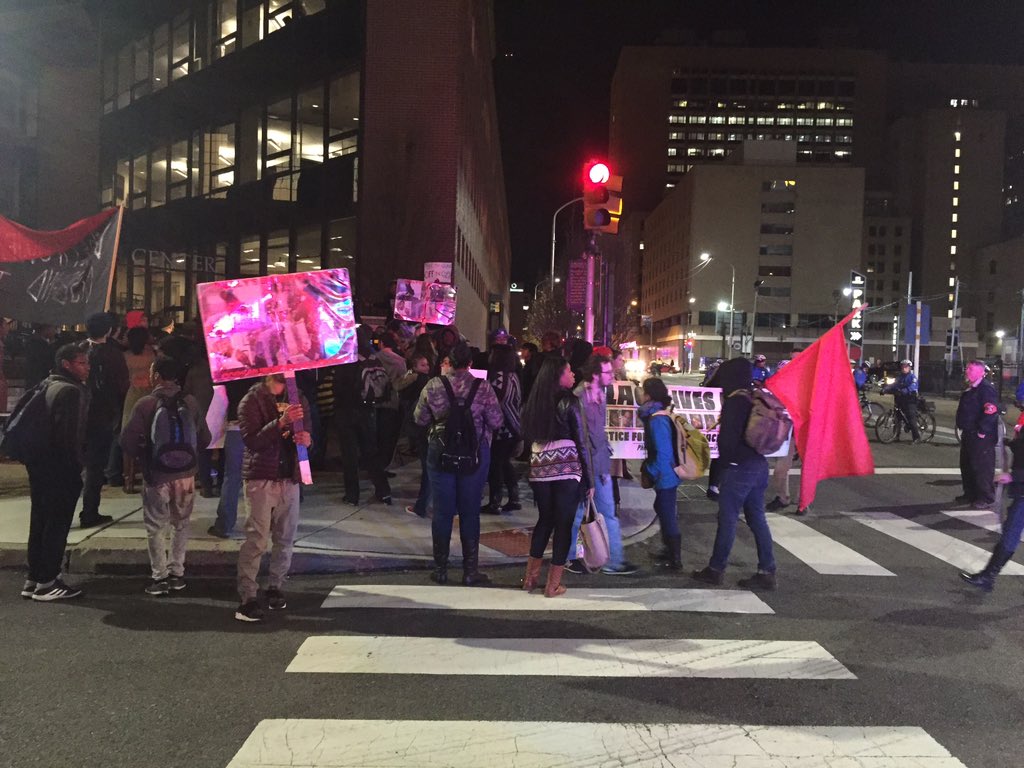 A group of demonstrators marched their way through Center City, entering stores and restaurants, to protest police brutality.
The marchers assembled around 5:00 p.m. Tuesday at Dilworth Park then began walking along Walnut Street toward Rittenhouse Square.
 During the march, members of the group entered stores and shouted messages associated with their cause.
According to SEPTA Police Chief Thomas Nestel, the group entered such stores and restaurants as the Gap, the Apple store, and Devon Seafood Grill.
The protest made its way to 18th and Walnut before moving on toward City Hall. It came to an end around 7:00 p.m.
Action News reporter Dann Cuellar says the marchers were seeking justice for Brandon Tate-Brown and Freddie Gray.
One year ago, Tate-Brown, 26, was killed by Philadelphia police during a traffic stop in the city's Mayfair section.
Grainy, partially obscured surveillance video recorded the incident.
Tate-Brown's family says it bolsters their case that the officers lied about what happened.
In June, Philadelphia Police Commissioner Charles Ramsey acknowledged that the account of the moments leading up to the shooting of Tate-Brown were not exactly the way police initially described them.
Ramsey said there was no evidence Tate-Brown was reaching for a gun when he was shot and killed by Philadelphia officers.
He said the police department's rush to provide details to the public about the shooting is to blame for the false narrative that Tate-Brown was reaching for a gun.
The district attorney cleared the two officers involved of any wrongdoing.
On Tuesday, jurors in the manslaughter trial of a police officer charged in the death of Freddie Gray said they were deadlocked.
The judge told them to keep deliberating and they went home for the night without reaching a verdict.
The jury reported its failure to agree in a note to Baltimore Circuit Judge Barry Williams after about nine hours of discussions over two days. It wasn't clear if they were stuck on one or more of the four charges Officer William Porter faces. He is the first of six officers to stand trial.
Gray, who was arrested while fleeing from police, died April 19, a week after his neck was broken while the seven-block trip turned into a circuitous, 45-minute journey around West Baltimore. The autopsy concluded that Gray probably suffered the injury by being slammed against the metal container's wall during cornering or braking.