September 19, 2022 1:01 am
Submission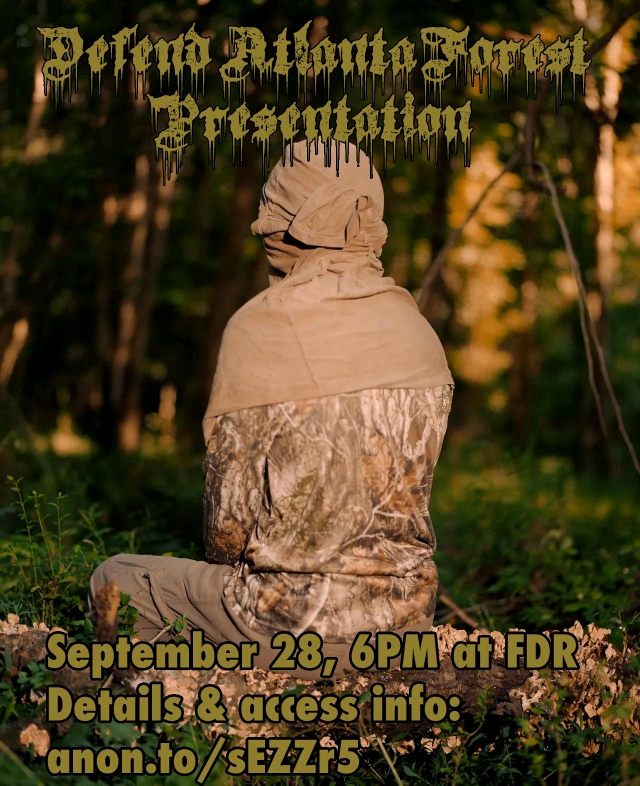 SEPTEMBER 28TH 6PM AT THE MEADOWS! Defend Atlanta Forest / Stop Cop City Tour Presentation In the wake of the 2020 George Floyd rebellion, Atlanta-area officials have planned to build the largest police training compound in the country — by bulldozing the largest urban tree canopy in the country! Meanwhile, film-industry executives plan to clear-cut what remains in order to build "the largest soundstage complex on Earth."
Join us for an in-depth overview and conversation with on-the-ground activists involved in the historic movement to Stop Cop City and Defend The Atlanta Forest.
Accessibility: The picnic grove is a short walk from the parking lot via a paved pathway with some incline/decline. The picnic area is grassy and/or mulched. Picnic tables and restrooms are available; please bring snacks and water. ADA restrooms are available while the clubhouse is open/staffed.
Location: Meadows Picnic Grove at FDR, 1954 Pattison Ave
Enter the Meadows from the 20th street parking lot by walking west through the community gardens and past the clubhouse.
This event will be a part of many for Meadow Fest. A Gathering to stop the destruction of the Meadows. For the full schedule of events go to: http://savethemeadows.com/events