from Disrupt IACP Philly
To kick off resistance to the IACP throughout their conference, a march has been called for the morning of Saturday, Oct. 21st, the first day of the conference. Meeting at Thomas Paine Plaza at 10AM, we will do our best to make it clear that the IACP and all police are firmly unwelcome in Philly.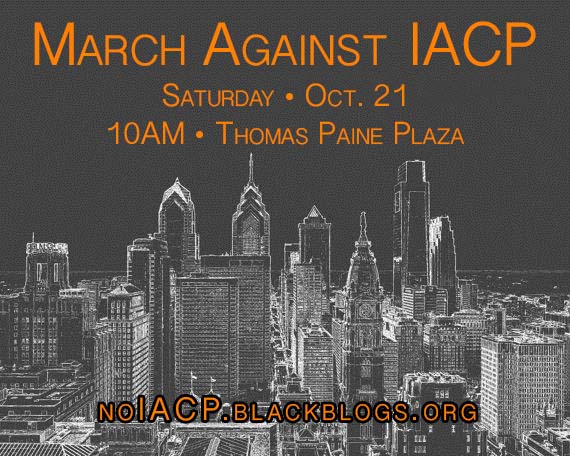 Later on the 21st and on the 22nd, Philly for REAL Justice has called for two events as part of #AbolitionWeekend:
#AbolitionWeekend. It's going down.

October 21-24, police chiefs from all over the nation will be gathering in Philadelphia. But we are clear that they are the heads of military forces which occupy black and brown communities, terrorizing and killing civilians. They will not come into our city without opposition.

On Saturday, October 21st, we rally outside of the Pennsylvania Convention Center, to denounce the militarized policing that plagues our country. [Event page here: http://bit.ly/2yvEKYN]
On Sunday, October 22nd, we are again outside of the Convention center, but this time, we will hold space as we discuss the theory of police abolition and the ways that we can fight for our freedom from the militarized police state. [Event page here: http://bit.ly/2xFryRG]

We need as many people as possible to come out, stand with us, and learn with us. Freedom is on the horizon. It's time for us to move.
Below are some new outreach posters! Click images for PDFs.
Keep an eye out for more announced events and actions, and feel free to send any calls, questions or endorsements to noiacp@riseup.net.