Submission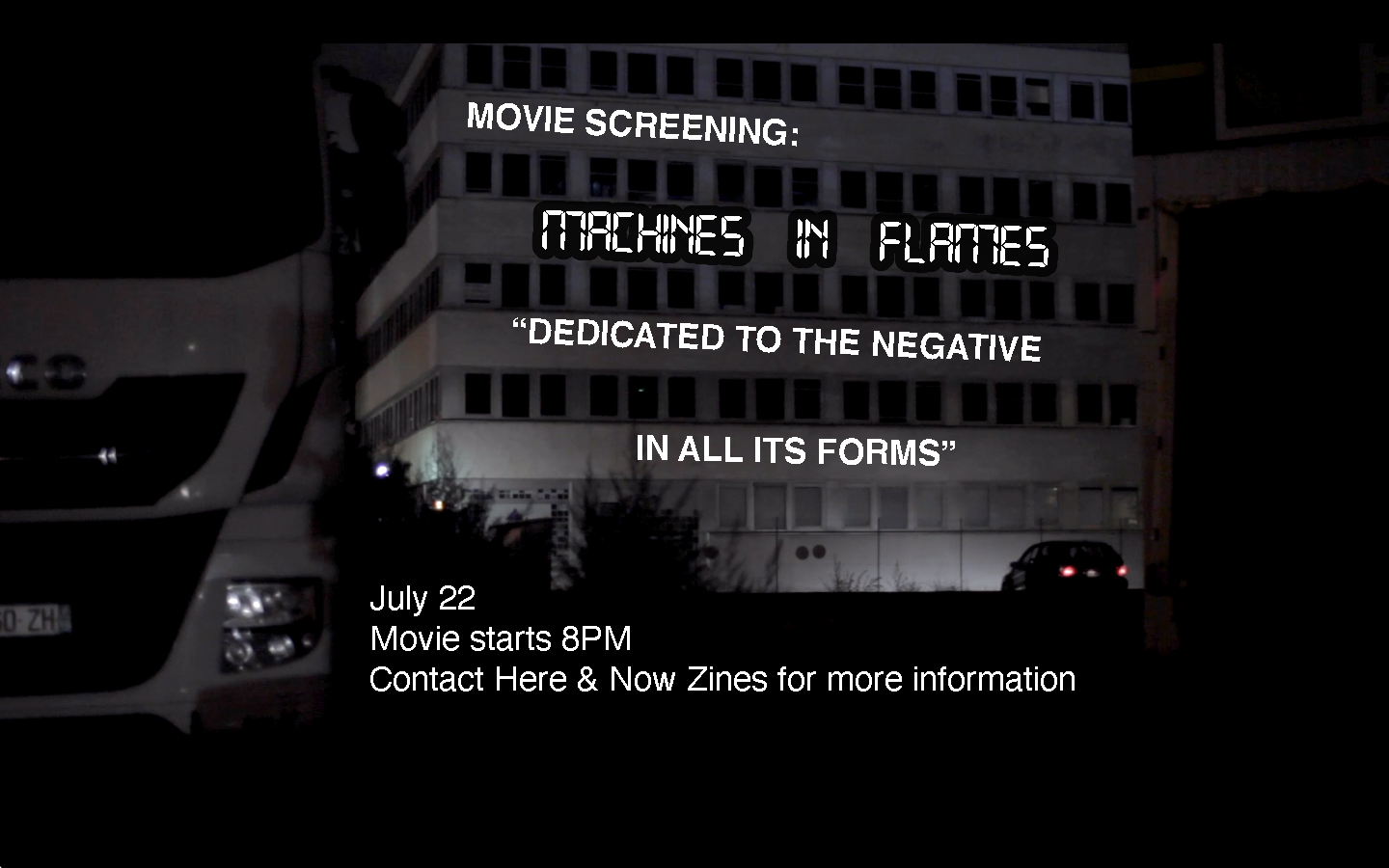 July 22
Movie starts 8PM
Contact Here & Now Zines for more information
Machines in Flames (2022, 50min) was first distributed through a network of self-erasing USB data sticks dropped outside corporate campuses.This prompted emails from tech firms who feared the release of its secret history of computational self-destruction. They sought to contain its cinematic search for an elusive group – CLODO – that bombed computer companies in 1980s Toulouse, France.
Journeying through the cybernetic nodes of military, industrial, and socialist development, Machines in Flames exposes how recording devices fail to collect the ashes of history. It is unclear what made corporate security firms most anxious: the film's fiery archival traces, its viral desktop choreography, the paranoid footage of nocturnal stakeouts, or its philosophical investigation of self-combustion?
Machines in Flames is the debut film of the Destructionist International, and the first in a series on the appetite for abolition in ultra-leftism.
—
The Destructionist International is dedicated to the negative in all of its forms. It is driven by a shared inclination: a taste for the fury of destruction, away from the dull submission of situations to reasoned judgement. This passion helps DI maintain a militant indifference toward individuals, organization, and institutionalization of any kind. It owes its existence to radical events, those rare situations in which abolition becomes actual.
The Destructionist International works across a variety of creative mediums (text, image, video, sound) and themes (militancy, sabotage, technology, liberation). Its first work was the the film Machines in Flames, in which media scholar Andrew Culp and cultural geographer Thomas Dekeyser retraced the footsteps of CLODO's historic attacks on computer firms in the 1980s.
—
Learn more about the film and watch the trailer at machinesinflames.com