from Idavox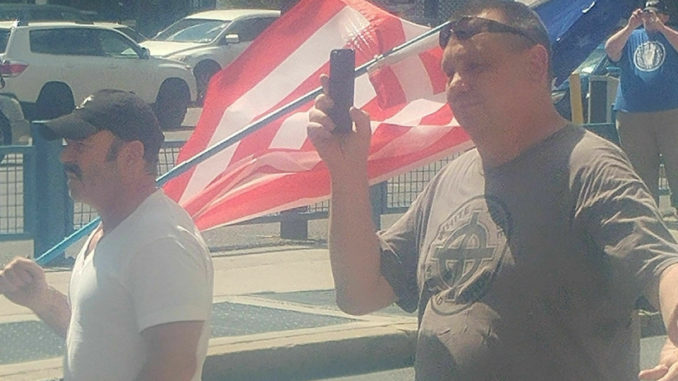 Ron Sheehy and Dan D'Ambly led a crew of four people to harass members of the Jewish community and their supporters protesting Trump's concentration camps. Gee, whatever got their dander up?
PHILADELPHIA, PA – Neo-Nazis, two who were readily identified as participants in the 2017 "Unite the Right" Rally in Charlottesville, were seen at an anti-ICE protest at Independence Hall today.
Jewish-American organizations across the country organized this week to be a national "Never Again Week of Action," and are holding similar marches across the U.S., linking the current immigration enforcement tactics employed by the U.S. Immigration and Customs Enforcement (ICE) to the Holocaust. "As Jews, we've been taught to never let anything like the Holocaust happen again," the Facebook event page reads. "Now, with children detained in unacceptable conditions, ICE raids targeting our communities, and people dying at the border while seeking safety in the US, we are seeing the signs of a mass atrocity. We refuse to wait and see what happens next."
During the march, four White men identified as neo-Nazis were heckling the passing protesters with anti-Semitic language. Of the four, two were identified because of their notoriety. Dan D'Ambly of the New Jersey European Heritage Association (NJEHA), raised the Betsy Ross American flag while shouting at passers-by, while Ron Sheehy, once of the Advanced White Society joined him while videotaping those he was heckling on his cell phone. According to a since deleted post from his "Tremley" account on Stormfront, the other two were members of NJEHA.
Sheehy also said the four of them later attempted to lay a wreath emblazoned with NJEHA decals on the grave of Ben Franklin but was met with opposition. "We all paid $3 each to get into the Cemetery, and we asked if we can lay a Reef (sic) on Ben Franklin's Grave Site so we can take a Picture," he wrote. "(T)hey said ok, but once we did, 2 queer guys who worked there flipped out and tried taking the Reef (sic) away from us. A lot yelling back and forth with them calling us White Supremacist and stuff, so we left after that." Sheehy also went to an anti-I.C.E. protest earlier this week at the offices of Rep. Tom Malinowski where he heckled the protesters while videotaping them. It is not known at this time if anyone joined him there.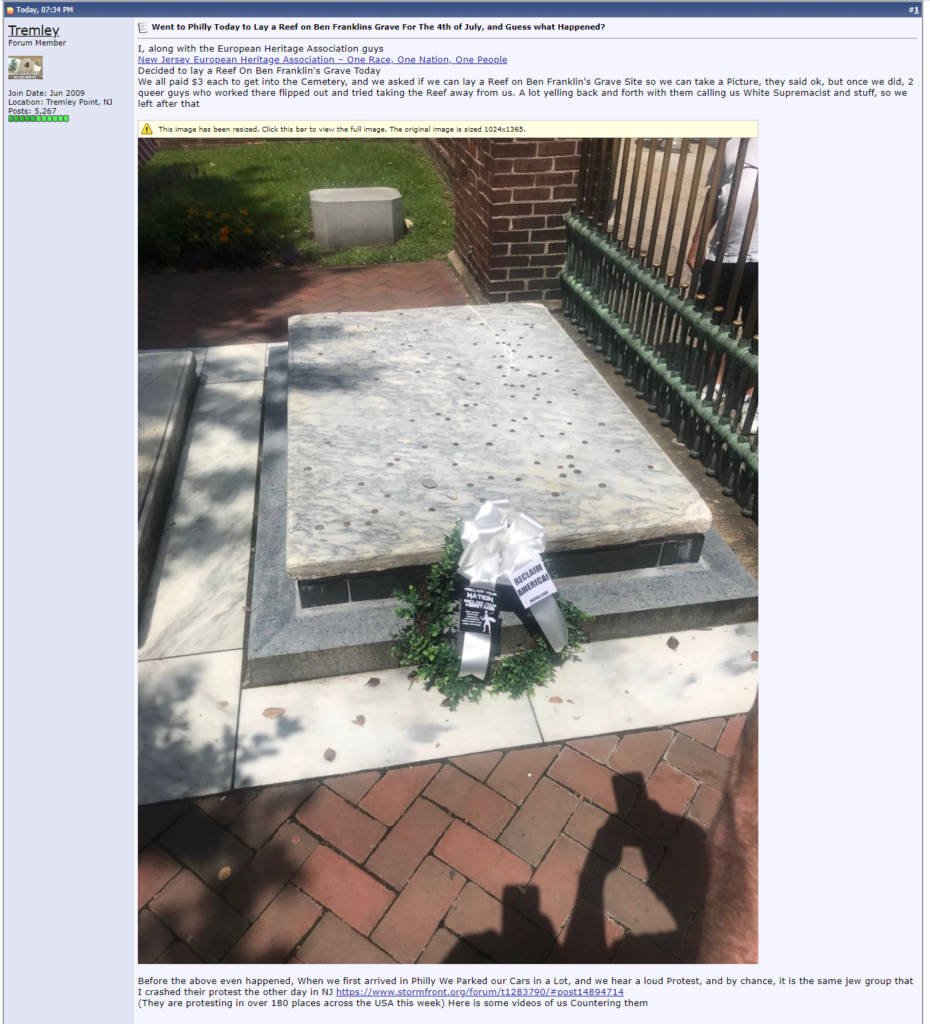 D'Ambly is best known for attempting to hold a rally in Princeton, NJ but failed to show once the residents learned of his plans. The NJEHA seldom, if ever, hold public rallies, opting instead to post flyers on telephone poles in various cities around the state. Sheehy has been seen often at anti-immigration events over the past decade in the New York City area, and just like D'Ambly was photographed at the rally in Charlottesville which cost this life of 32-year-old Heather Heyer, who was killed when White Supremacist James Fields plowed his car into a crowd of protester. D'Ambly was also identified as one of the participants of the "Unite the Right 2" rally the following year in Washington, DC, with his NJEHA organization.
Not done with the #NJEHA just yet. I was going through my Charlottesville 2017 video files and found Dan D'Ambly walking with a crowd of folks. pic.twitter.com/ET1HZ68dSG

— Daryle Lamont Jenkins (@DLamontJenkins) January 27, 2019
Dozens of protesters were arrested during the Fourth of July Parade while marching through demanding those being held in what has been referred to as concentration camps be removed from such establishments, one of them being in Berks County, PA.